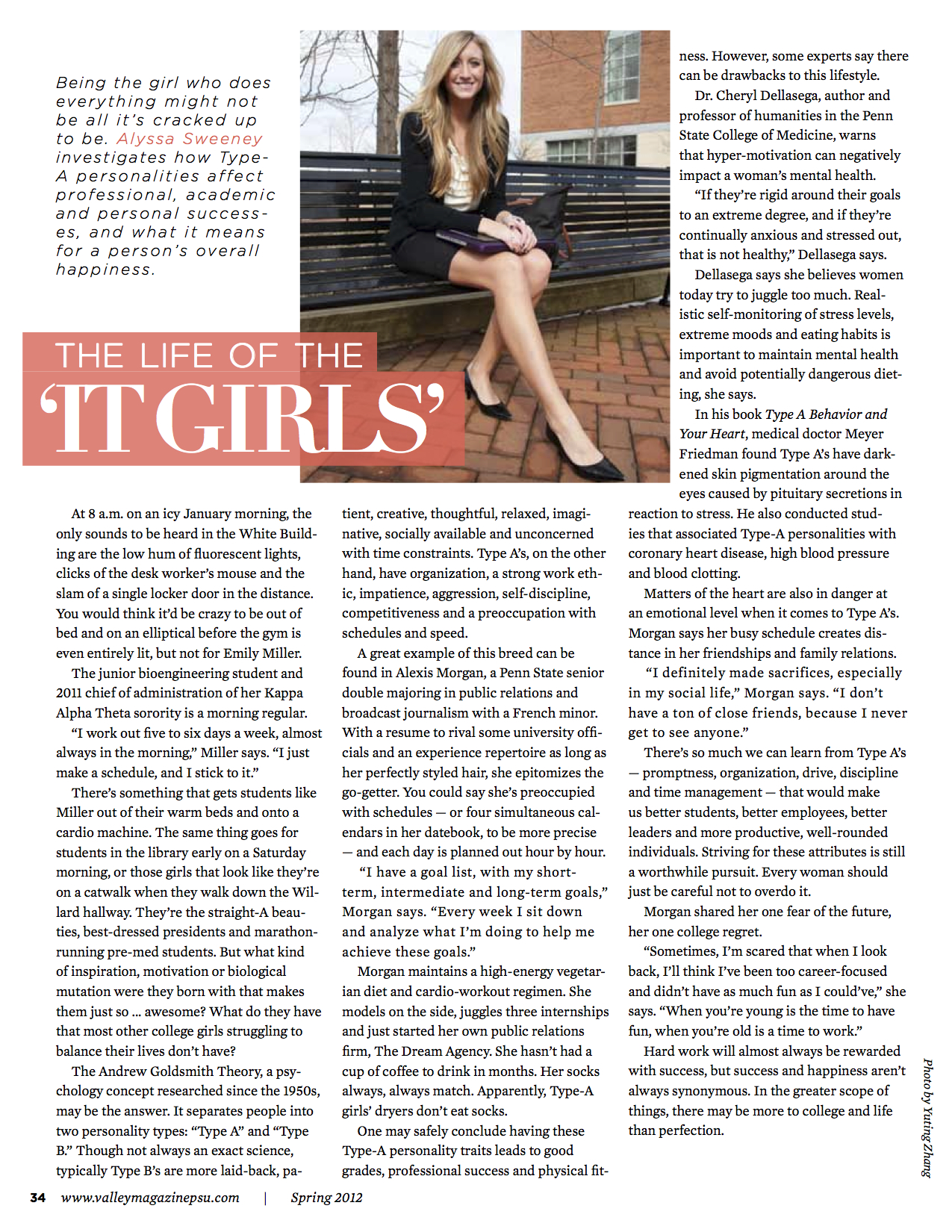 A great example of this breed can be found in Alexis Morgan, a Penn State senior double majoring in public relations and broadcast journalism with a French minor. With a resume to rival some university officials and an experience repertoire as long as her perfectly styled hair, she epitomizes the go-getter. You could say she's preoccupied with schedules — or four simultaneous calendars in her datebook, to be more precise — and each day is planned out hour by hour.
"I have a goal list, with my short- term, intermediate and long-term goals," Morgan says. "Every week I sit down and analyze what I'm doing to help me achieve these goals."
Morgan maintains a high-energy vegetarian diet and cardio workout regimen. She models on the side, juggles three internships and just started her own public relations firm, The Dream Agency. She hasn't had a cup of coffee to drink in months. Her socks always, always match. Apparently, Type-A girls' dryers don't eat socks.
One may safely conclude having these Type-A personality traits leads to good grades, professional success and physical fitness. However, some experts say there can be drawbacks to this lifestyle.
Dr. Cheryl Dellasega, author and professor of humanities in the Penn State College of Medicine, warns that hyper-motivation can negatively impact a woman's mental health.
"If they're rigid around their goals to an extreme degree, and if they're continually anxious and stressed out, that is not healthy," Dellasega says.
Dellasega says she believes women today try to juggle too much. Realistic self-monitoring of stress levels, extreme moods and eating habits is important to maintain mental health and avoid potentially dangerous dieting, she says.
In his book Type A Behavior and Your Heart, medical doctor Meyer Friedman found Type A's have darkened skin pigmentation around the eyes caused by pituitary secretions in reaction to stress. He also conducted studies that associated Type-A personalities with coronary heart disease, high blood pressure and blood clotting.
Matters of the heart are also in danger at an emotional level when it comes to Type A's. Morgan says her busy schedule creates distance in her friendships and family relations.
"I definitely made sacrifices, especially in my social life," Morgan says. "I don't have a ton of close friends, because I never get to see anyone."
There's so much we can learn from Type A's — promptness, organization, drive, discipline and time management — that would make better students, better employees, better leaders and more productive, well-rounded individuals. Striving for these attributes is still a worthwhile pursuit. Every woman should just be careful not to overdo it.
Morgan shared her one fear of the future, her one college regret.
"Sometimes, I'm scared that when I look back, I'll think I've been too career-focused and didn't have as much fun as I could've," she says. "When you're young is the time to have fun, when you're old is a time to work."
Hard work will almost always be rewarded with success, but success and happiness aren't always synonymous. In the greater scope of things, there may be more to college and life than perfection.