By Alexis Morgan
The sound of an alarm clock permeates the quiet bedroom at half past seven in the morning.
Ollie Obgu opens one eye, checks the time and hastily hits the snooze button. Ten minutes later, Ogbu, 25, rolls out of bed, brushes his teeth, packs his gym clothes and is out of his parents' house on Staten Island by 8:15.
He rolls down the tinted windows in his black 2012 Camaro, and leans the driver's seat back as far as it can go. Putting one hand on the steering wheel and the other on his iPod, "My Moment" by DJ Drama blasts from the bass-heavy speakers. Ogbu's Camaro, one of his most prized possessions, was a gift to himself, a reward for all his hard work after he signed a contract with the Indianapolis Colts in 2011. But, just like the average NFL career, the rewards didn't last long.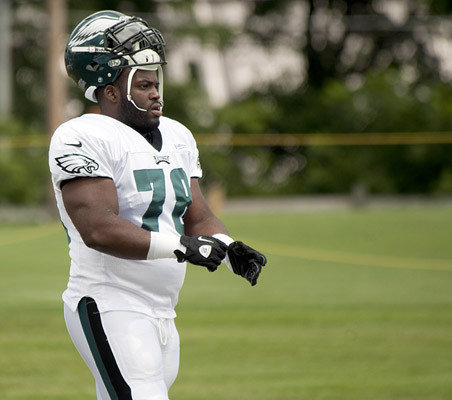 After a year in the NFL on Indianapolis' practice squad, Ogbu was cut from the Colts' roster, traded to the Philadelphia Eagles and then cut again after just a month. Recognizing the league's rigorous competition and ruthless politics, Ogbu decided to accept an offer from the Canadian Football League, rather than take his chances floating among NFL practice squads. Although the NFL boasted a more glamorous lifestyle, a position on a CFL roster presented some sort of job security.
But even with his football career with the Alouettes, Ogbu, still holds down four other jobs. He's a performance coach at Parisis Speed School and a trainer at Dolphin and Intoxx, two gyms on Staten Island by day, and a bouncer at Johnny Utah's in midtown Manhattan by night. And if that's not enough – he squeezes in workouts between his jobs to stay in shape for the football season.
At 9 a.m., he meets his first client at Dolphin, guiding him through circuit training in the brightly lit gym. "Technique over speed, technique over speed," yells Ogbu, who towers over his client, John B. John is a returning client, but most clients are paired with Ogbu at random by the gym. He receives twenty percent of each client's training session and the gym takes the rest, a far cry from where he was financially a year and a half ago.
Even with all of his current jobs, Ogbu remains around $5,000 in debt.
"I shouldn't be," he acknowledges, en route to his first personal workout at Parisis two hours later. "I had a scholarship to college" – at Penn State – "and was in the league for a while."
---
---
So what happened?
"Too many bad business decisions, paying family bills, car payments, rent, loans to friends… It all adds up."
On the NFL practice squad, Ogbu made $5,200 per week during regular season games in addition to a signing bonus totaling about $60,000 after taxes. In the CFL, he made $2,000 per week on the practice squad but this year he says he'll make about $3,000 every week he's on the active roster. After Canadian and American taxes are deducted, Ogbu says he'll walk away with about $50,000 if he makes first string, a little less than the salary of an NFL practice squad player. In contrast, the minimum NFL salary for the 2013 season is $405,000 while the minimum for the CFL is roughly 90 percent less at $45,000.
Ogbu weighs nearly 300 pounds, standing at six-foot-one, with a thick beard and a soft smile. He believes he has the right physicality to compete at any level and says he did well with the Colts because of their pass rush defensive scheme.
Then-Colts' quarterback Peyton Manning, a pass-heavy QB, initiated a quick offensive play style that required the team's defense to stay on the field longer. It mandated readiness for a quick turnaround after a change of possessions. Indianapolis needed players with the stamina to play for extended periods but who were also big enough to stop opponents' running games. Ogbu transitioned rather easily from college ball to the NFL because he was used to the style from his college career at Penn State.
"When they cut Peyton [Manning], I was no longer needed in their new style of defense," he says. The Colts transitioned from a 4-3 defense to a 3-4 system. At 283 pounds, Ogbu lacked the size to play nose tackle. Now that Ogbu has gained weight, he could possibly fulfill more roles on the line than he was able to before at his previous size.
Last fall in his first season with the Alouettes, Ogbu primarily played on the practice squad. But once he was put on the active roster, he recorded seven tackles and a fumble recovery in three games.
At 11:30 a.m. in the Precision Academy gym, Ogbu sets six 45-pound weights on the squat bar. He breathes heavily at the last of ten repetitions and struggles to replace the bar on the mechanism.
"I know I'm acting depressed, but it's really not that bad," he says head low, sitting on a bench. "It's just because I was there and now I'm trying to get back."
Still, the physical element challenges anyone. "It takes a toll on your body," he says as he finishes his hour-long workout.
Many believe football players can eat whatever they want but Ogbu is on a strict diet. He orders a plain turkey burger on a thin wheat pita and a Vitamin Water at Better Gourmet Health, for a late three o'clock lunch. It's his first meal of the day.
"My plan is to stay with Montreal this season, let my body rest for a month, then start training to try out with NFL teams," Ogbu says. He intends to send this season's highlights to all 32 NFL teams through his agent, Kelli Masters, hoping to spark someone's interest.
"It's a tough road," says Ken Munson, owner of Parisis Speed School, who has known Ogbu since he trained there in preparation for Penn State's Pro Day. Now, three years later, Ogbu works for Munson as a trainer during the CFL offseason.
"He's good enough to play at any level. You just have to be at the right place at the right time," says Munson.
Bardia Ghahremani, an agent at International Sports in Beverly Hills, agrees with Munson.
"It all comes to opportunity. If there's no opportunity on the field, there's no chance and that's the problem," he says. Ghahremani claims he has at least two players transfer from the CFL to the NFL every year, most notably Jamal Robertson and Jerrell Freeman. Jamal Robertson, now retired, played for a year in the CFL and went on to play six seasons in the NFL, twice the length of the average NFL career. And his other well-known client, Jerrell Freeman, played three seasons in the CFL before ultimately signing with the Colts last year. Last season, Freeman recorded 145 tackles, fifth highest in the NFL.
"[Ogbu's] got to go in there and be the best defensive linemen in Canada," Ghahremani says.
Marcus Thigpen has a similar story to Ogbu's, but Thigpen managed to find success breaking through the tough NFL barrier to entry. Thigpen was an undrafted free agent in 2009. Like Ogbu, he also drifted among NFL teams before finally signing with a CFL team the same year.
"It's a hard, hard road. It's not easy, you've got to have tough skin and be able to handle the losses," Thigpen says.
While on the Saskatchewan Roughriders' practice squad, Thigpen had to pick up extra jobs to make ends meet, noting he was only paid around $20,000 for the season after foreign exchange rates were calculated and taxes were deducted. It was hardly enough to support his wife and children living in Texas, so he delivered phone books for six months, making just enough to pay the bills.
After he became the first player in CFL history to score a touchdown five different ways in one season, Thigpen landed a temporary spot on the Miami Dolphins where he solidified his presence on the 53-man roster following a returned punt for a touchdown in his first NFL game.
Thigpen believes being cut from two NFL teams previously and toughing it out financially through his CFL career has made him a stronger individual.
After lunch, a client calls to cancel a training session with Ogbu, opening more time for him to jam in a second workout at LA Gym. Sweat drips down his forehead as Ogbu's gloves meet a punching bag in an empty room draped in floor-to-ceiling mirrors.
Without having showered after his first workout, he uses his Montreal shirt to wipe his face as he pushes himself through an intense kickboxing session. He exhales heavily, hitting it again with more force and determination in his eyes.
Similar to Thigpen's tough mentality, Ogbu won't give up on his dreams, working towards just one more shot to shine in the NFL. He finishes his second workout of the day at 6 and looks forward to a casual night at home before another day at his many jobs. As Ogbu drives home to his parents house, sun rays reflect off his shiny black Camaro, a constant reminder of where he once was and where he vows some day to be again.