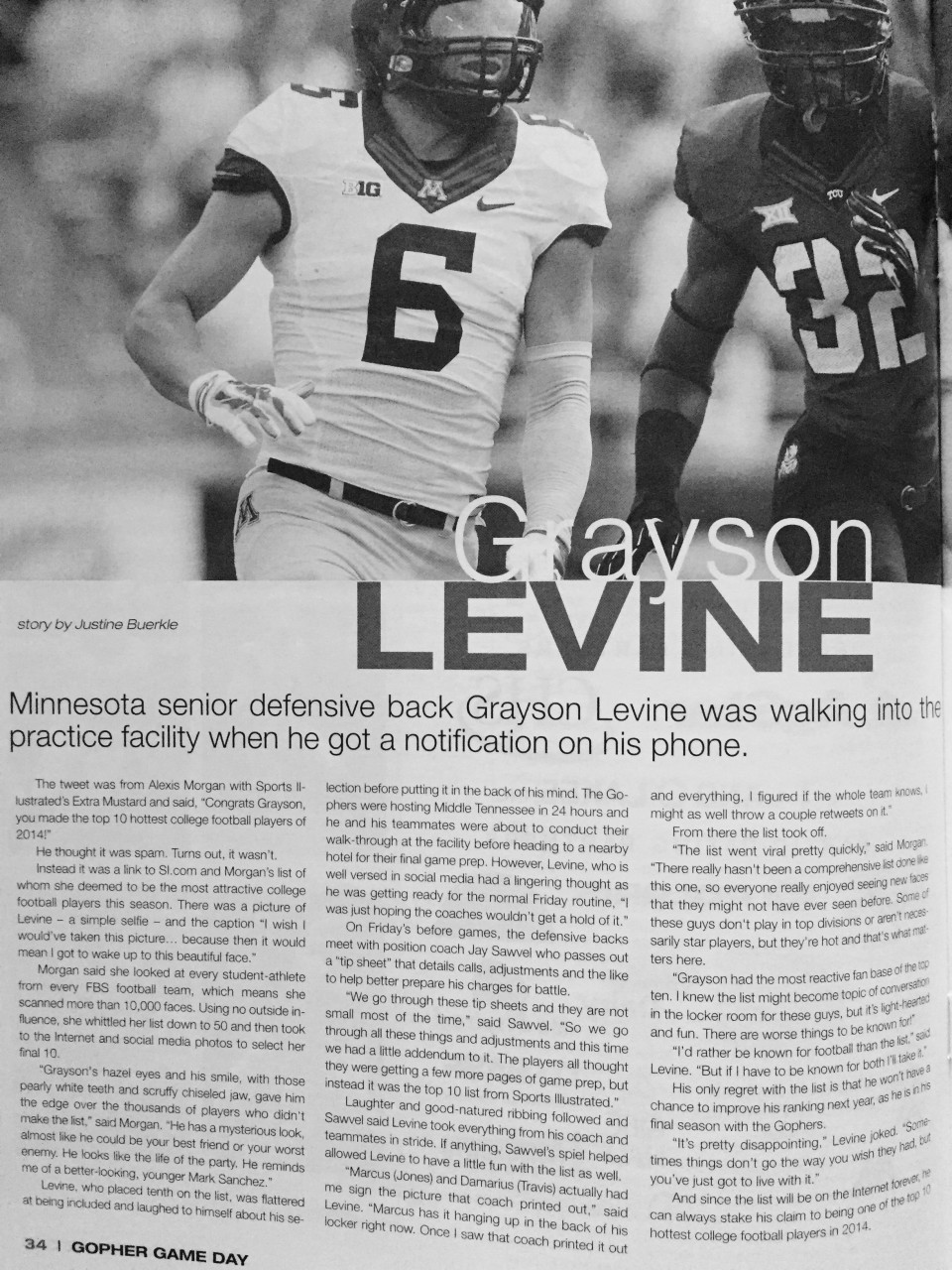 Minnesota senior defensive back Grayson Levine was walking into the practice facility when he got a notification on his phone.
The tweet was from Alexis Morgan with Sports Illustrated's Extra Mustard and said, "Congrats Grayson, you made the top 10 hottest college football players of 2014!"
He thought it was spam. Turns out, it wasn't.
Instead it was a link to SI.com and Morgan's list of whom she deemed to be the most attractive college football players this season. There was a picture of Levine – a simple selfie – and the caption "I wish I would've taken this picture… because then it would mean I got to wake up to this beautiful face."
Morgan said she looked at every student-athlete from every FBS football team, which means she scanned more than 10,000 faces. Using no outside influence, she whittled her list down to 50 and then took to the Internet and social media photos to select her final 10.
"Grayson's hazel eyes and his smile, with those pearly white teeth and scruffy chiseled jaw, gave him the edge over the thousands of players who didn't make the list," said Morgan. "He has a mysterious look, almost like he could be your best friend or your worst enemy. He looks like the life of the party. He reminds me of a better-looking, younger Mark Sanchez."
Levine, who placed 10th on the list, was flattered at being included and laughed to himself about his selection before putting it in the back of his mind. The Gophers were hosting Middle Tennessee in 24 hours and he and his teammates were about to conduct their walk-through at the facility before heading to a nearby hotel for their final game prep. However, Levine, who is well versed in social media had a lingering thought as he was getting ready for the normal Friday routine: "I was just hoping the coaches wouldn't get a hold of it."
On Friday's before games, the defensive backs meet with position coach Jay Sawvel who passes out a "tip sheet" that details calls, adjustments and the like to help better prepare his charges for battle.
"We go through these tip sheets and they are not small most of the time," said Sawvel. "So we go through all these things and adjustments and this time we had a little addendum to it. The players all thought they were getting a few more pages of game prep, but instead it was the top 10 list from Sports Illustrated."
Laughter and good-natured ribbing followed and Sawvel said Levine took everything from his coach and teammates in stride. If anything, Sawvel's spiel helped allowed Levine to have a little fun with the list as well.
"Marcus (Jones) and Damarius (Travis) actually had me sign the picture that coach printed out," said Levine. "Marcus has it hanging up in the back of his locker right now. Once I saw that coach printed it out and everything, I figured if the whole team knows, I might as well throw a couple retweets on it."
From there the list took off.
"The list went viral pretty quickly," said Morgan. "There really hasn't been a comprehensive list done like this one, so everyone really enjoyed seeing new faces that they might not have ever seen before. Some of these guys don't play in top divisions or aren't necessarily star players, but they're hot and that's what matters here.
"Grayson had the most reactive fan base of the top 10. I knew the list might become topic of conversation in the locker room for these guys, but it's light-hearted and fun. There are worse things to be known for!"
"I'd rather be known for football than the list," said Levine. "But if I have to be known for both I'll take it."
His only regret with the list is that he won't have a chance to improve his ranking next year, as he is in his final season with the Gophers.
"It's pretty disappointing," Levine joked. "Sometimes things don't go the way you wish they had, but you've just got to live with it."
And since the list will be on the Internet forever, he can always stake his claim to being one of the top 10 hottest college football players in 2014.